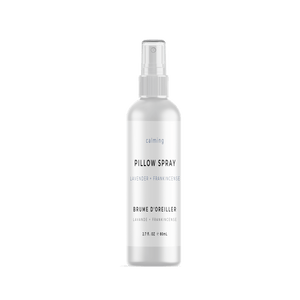 Calming Pillow and Linen Spray
Introducing our dream-inducing pillow and linen spray, crafted with a carefully curated blend of nature's most calming essential oil. Say hello to tranquility and bid farewell to restless nights with our Calming Lavender and Frankincense Pillow Spray.
Designed to transform your bedtime routine into a serene oasis, this delightful spray harnesses the soothing powers of lavender and frankincense essential oils. Lavender, renowned for its gentle and relaxing properties, works harmoniously with the serene and grounding aroma of frankincense to create an enchanting ambiance that promotes deep relaxation and restful sleep.
With just a shake before use, this calming spray effortlessly infuses your pillows, linens, or blankets with a touch of pure bliss. Simply mist 3 to 5 pumps of the spray onto your pillows, linens, or blankets at bedtime... now climb in, inhale deeply, and say goodnight.
The spray comes in a reusable/recyclable aluminum bottle.
Ingredients: Distilled Water, Lavandula angustifolia (Lavender) Essential Oil, Boswellia serrata (Frankincense) Essential Oil,  Sodium Lauroyl Sarcosinate, Raphanus Sativus (Radish) Seed Extract, Phenoxyethanol and Caprylyl Glycol
---