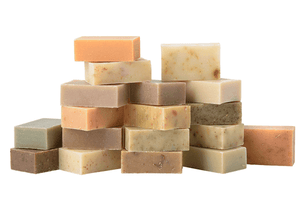 Xl Bar Soap (6 - 8 oz)
Our artisanal cold process soaps offer a sensory experience and a level of luxury that only handmade products can offer. Made with exceptional ingredients like plant oils, and butters that are rich in antioxidants, vitamins, and nutrients that are essential to healthy skin, and essential oils that provide aromatherapy and therapeutic benefits. Using the traditional cold-process method allows our soaps to retain the ingredients' moisturizing glycerin, our bar soaps create a luxurious lather that cleans and pampers even the most sensitive skin types.
Ingredients: Saponified Oils of: *Palm (RSPO), *Shea, *Olive, Cocoa Butter, *Safflower, Rice Bran, Castor, *Coconut, and Avocado. Naturally Occurring Glycerin, Silk Amino Acids. *ORGANIC*
Scented Bars May contain: Essential Oils, Fragrance, Clay, Mica, Botanical Extracts, Sake, Beer, or Wine.
Scent Descriptions:
Lavender Frankincense: Lavender & Frankincense....one of our favorite combinations. The scent instantly relaxes and soothes away stress and anxiety, leaving you with a sense of peace and contentment.
 Sunshiny Day: This super cute orange and pink bar will jumpstart your morning with bursts of pink grapefruit, orange blossom, yuzu, and lemongrass notes.
Naked Glory: Unscented, with no added color or herbs. This ultra-mild bar is perfect for those with sensitive skin, or for people who prefer fragrance free products.
---